The crew and committee of RBRB would like to express their thanks to all the recent fundraisers who work hard and are so generous with their time and money.
There was an article in the Whitby Gazette on Friday 23rd May 2014 covering a number of the recent events and donations (reproduced on the right).
This year will be a busy year, with work ongoing to ensure that RBRB continues it's service into the future by embracing the new MCA Rescue Boat Code and also the intended purchase of a new boat this summer (watch this space for further announcements).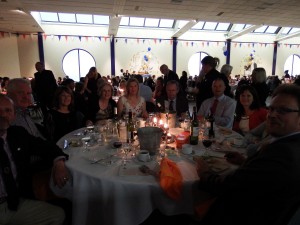 There was also a retirement party at Whitby Pavillion for Glenn Goodberry, the former mechanic on Whitby RNLI Lifeboat, and a valued supporter of RBRB. We would like to acknowledge Glenn's, and all the crew and management at Whitby RNLI, contribution to helping us get off the ground some 32 years ago and helping us stay afloat all these years. A number of the crew and committee of RBRB attended Glenn's do (left) and helped give him a worthy send off.